Soo I'm about a week late with this post...L'Oreal and Matchstick hooked me up with an AMAZING hair stylist Manny from Flaunt Boutique. I got my hair done red!! On top of that I got myself some new crazy bangs. We used the new L'oreal INOA Hair Colour. I was such a bad blogger I didn't even take any pics, actually I lost my new camera...hopefully I find it soon. I didn't tell you guys this but Thanksgiving weekend I chopped off my butt length hair to right below my shoulders! I lovee long hair but it was sooo dead...I was contacted well before I cut off my hair but I gave up after weeks and weeks went by with no reply from a stylist. When I finally got the call I was more than ready to go red! I got the full treatment; haircut, coloured, styled...makeup, wardrobe, and photographer! This is for a contest on Facebook so I would really appreciate all your help! There are entries from 2 months ago so we are behind big time and need to catch up!
Day 1:
I got my hair coloured. I believe Manny used about 3-4 shades. Mainly the base was the darkest red and I also have some copper highlights.
Day 2:
We were praciting for the photoshoot. Manny originally wanted to do a fingerwave style. After a few shots he decided a different look would suit me better - and I totally agreed! I have shots of the finished style but I turned out really bad in them so sorry! But here is the pin curl process: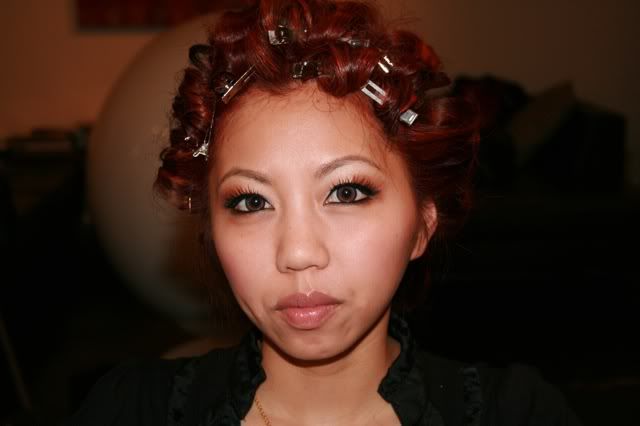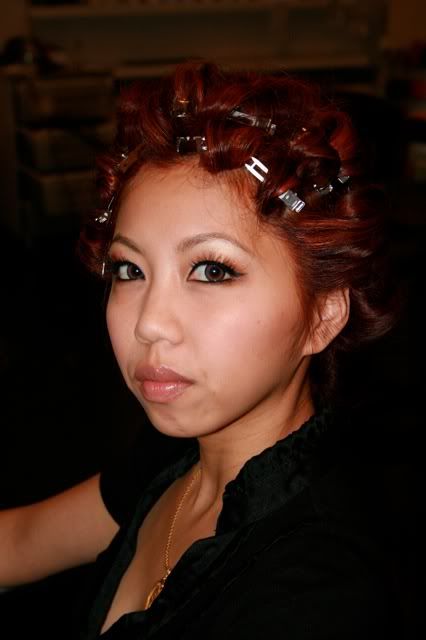 Day 3:
Manny cut my bangs, I always had side swept bangs but now they were full straight bangs! How Asian right? Only thing I worry about it now I can't leave my hair wavy since they would look weird with full bang. I also got a few face framing layers. I got my makeup done and then we were off to the photoshoot.
Here's my before and after: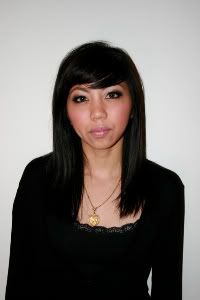 My Professional After Shot:
You guys will have to go to Facebook to check it out!!! Hehe! I know I have naturally full lips but when I saw it the first time I was like WHOAA in the pic! It could definitely be in a lip plumping ad lol
How to Vote:
Go to

http://www.facebook.com/LO

realProCanada
Click on the vote tab
Click 'vote for your favourite transformation'
You will have to allow that page to access.
They will make you like the L'oreal page, and Elle magazine.
Search for Manny Bartolome or the only Asian model and click like!
You can vote once a day and every vote you can be entered into a draw to win free professional L'oreal INOA services for a year!
Thanks in advance!!