I told you all in a previous post that I was going to do a review sponsored by
CSN Stores
. I was initially interested in the makeup mirror but I changed my mind when I realized they sold shoes! They sell tonss of shoes! For a while I found a few shoes I was interested in....but then....I was really mad that I wasted my time when I found out those certain styles didn't even ship to Canada. You Americans get all the fun!! So from then on I had to keep changing the filter to ships to Canada. At first, the selection was quite boring. Then one day they had all new shoes...very interesting shoes...shoes that are great for clubbing, Halloween costumes, and ALSO there were shoes that were......how can I put this? Would only be put to use by exotic dancers! No joke. Check this lol.
http://www.csnstores.com/Pleaser-TIP702-5-C-BG-PXR2373.html
I have a bad habit of buying high heels that I dread wearing because I actually have flat feet so I can't wear heels for more than an hour without my body aching. So after long debate I chose these:
http://www.csnstores.com/Casual-Barn-CBS0019-Brown-CAQ1024.html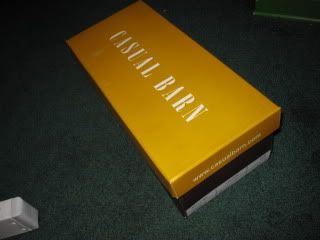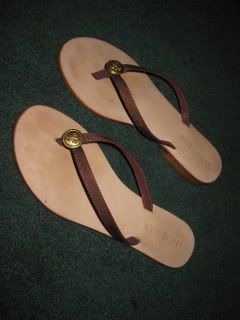 Don't mind the toe prints hehe
I know these may not be the most fashionable sandals but they seemed like the most practical choice for me at the time. After I placed my order the company immediately sent me a tracking number. I forgot exactly how long the shipping took but it was pretty quick, less than a week for sure. The day I received the package I immediately wore them since I was on my way out. The fit was perfect and they actually looked quite nice - exactly like the picture. I was scared I had picked out a granny style of sandal but they looked quite elegant. I was also scared the wood base would not be comfortable but it was actually very comfortable!
So...I don't find my feet to be wide but the sandals were definitely too narrow for me. The straps were digging very hard into my skin. I was already out so I could not change. When I would check my feet I had big pink marks from them. When I got home I saw they were actually bleeding a bit...so yea I think I will have to try to break them in using the ice trick.
What I really like about the site is that all the fees are charged when you pay. You do not have to worry about paying duty fees to the mail courier or having to pick it up at the post office because you did not have money on hand to pay the fees at the door. Also, the filtering system makes searching a breeze. Especially for the shoes, you can sort by size of heel, colour, size, brand, price, etc.
Overall, I had a good experience with the company just not with the item I chose. Who knows? Maybe my feet are considered to be wide =(