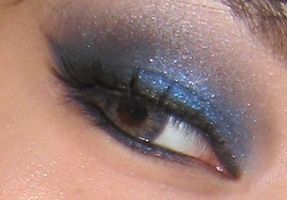 First time I have ever worn blues! Even though the look was super simple, I got tons of compliments from my co-workers and customers today =)
I still hate my black hair, only thing I like about it is I get to do my brows super defined and dark!
I am horrible at posing so I had to crop out all my pics...
Products Used:
NYX Black Bean Jumbo Eye Pencil
Deep Truth
Blue Flame
Shadowy Lady
Lightfall (Highlight)
Carbon
*Geo Tri Color - Grey Lenses*