This picture makes me sad. I have SHORT, BLACK hair now =(
A sad attempt at a FOTD - the first time I have EVER tried a smokey eye!
Ok, so I purposely resized this pic small since it was creasing like crazy!
(I look oily cuz pic was taken many hours after application)
Products Used:
Lavender Whip lipstick
NYX Jumbo Eye Pencil (Black Bean) - I used VERY little and that shit made my eyeshadow crease! And yes, I did wear UDPP as well
MAC Eyeshadows:
Pandamonium
Soft Brown
Knight Divine
Carbon
Solar White
Crystal Avalanche
Pro Store Display (Pic taken by
Xinar0x
with my camera teehee!)
Ok, so one is missing cuz these greedy Asian girls saw us looking at the display, then this one fobby ditzy chick literally grabbed half of the dazzleglasses and walked to other side of the store with it...I was like fuck seriously???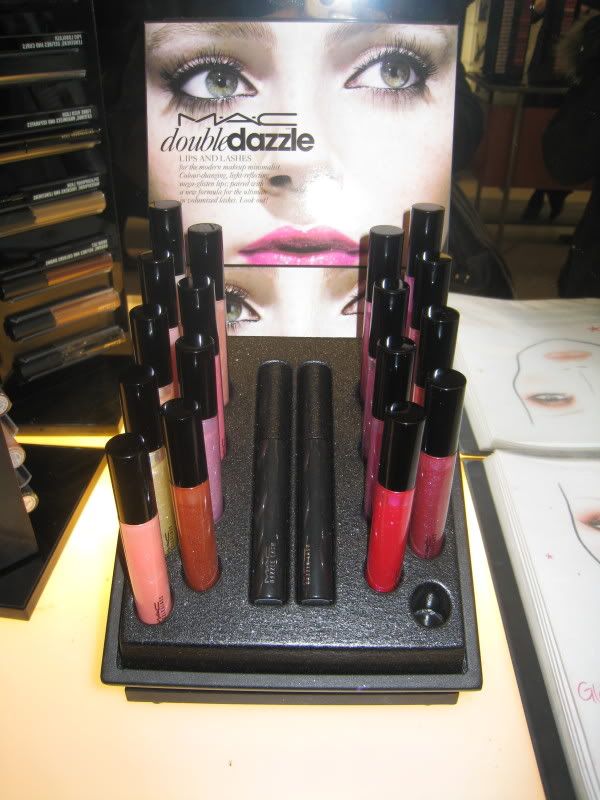 Got these 2 Dazzleglasses for FREE with B2M! Extra Amps and Goldyrocks. A few of the dazzleglasses had been marked as "LL" meaning Limited Lifetime (aka Limited Edition), including Extra Amps and many others, which is weird since online it was not marked as Limited Edition. I really wanna get Funtabulous and Sugarrimmed next time I collect more B2M redeemables, since they are permanent I have lots of time! And just to clarify, MAC does accept depotted empties WITHOUT the tin pans - at least the ones in Toronto do.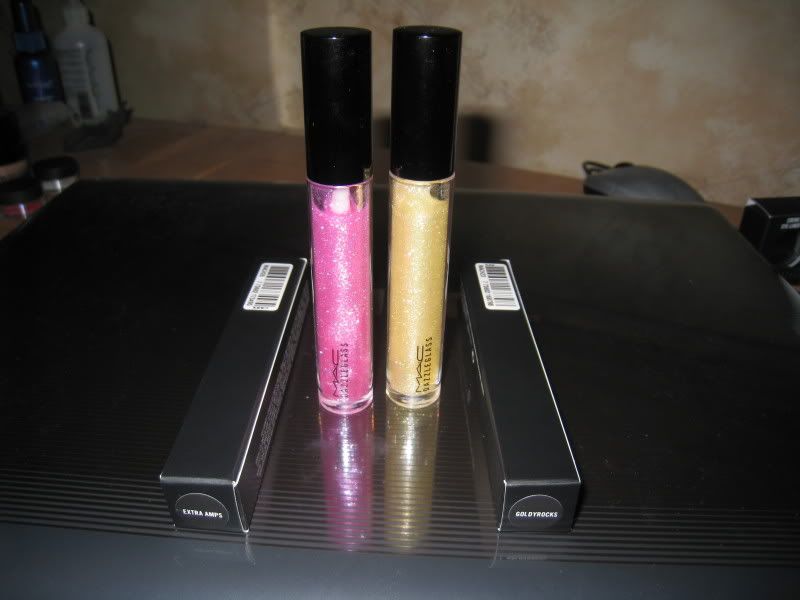 OKAY...IS IT JUST ME??? OR DO THEY NOT SEEM FULL? THESE 2 I HAVEN'T OPENED OR SWATCHED...
My small collection of Dazzleglasses, even though I don't even wear lipglosses...lol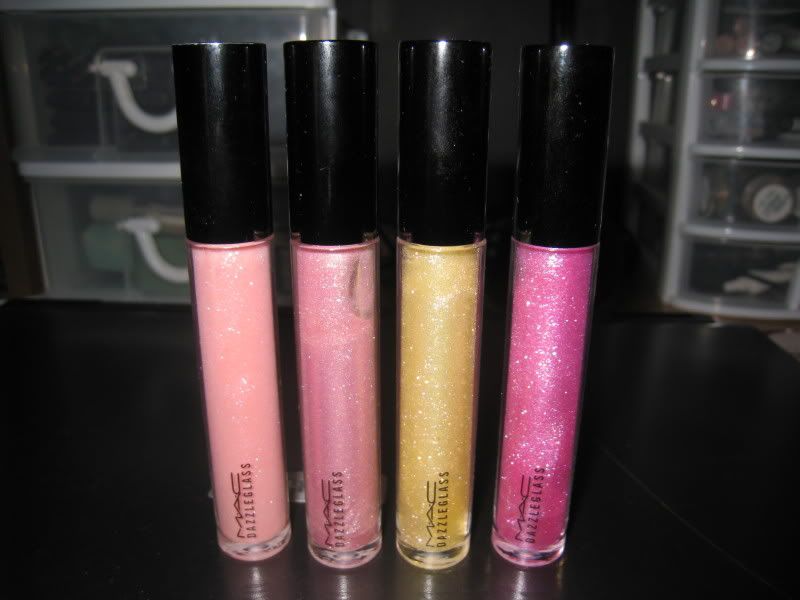 Baby Sparks, Rags to Riches, Goldy Rocks, Extra Amps
Penultimate (Rapid Black), Saint Germain lipstick, Bare Slimshine
Pro Items:
-Eyeliner Mixing Medium (Gel Based)
-Creme Eyeliner - Black (I had the older version of this wayyy back in the day and I was so glad they had re-released this)
-Mattifying Cream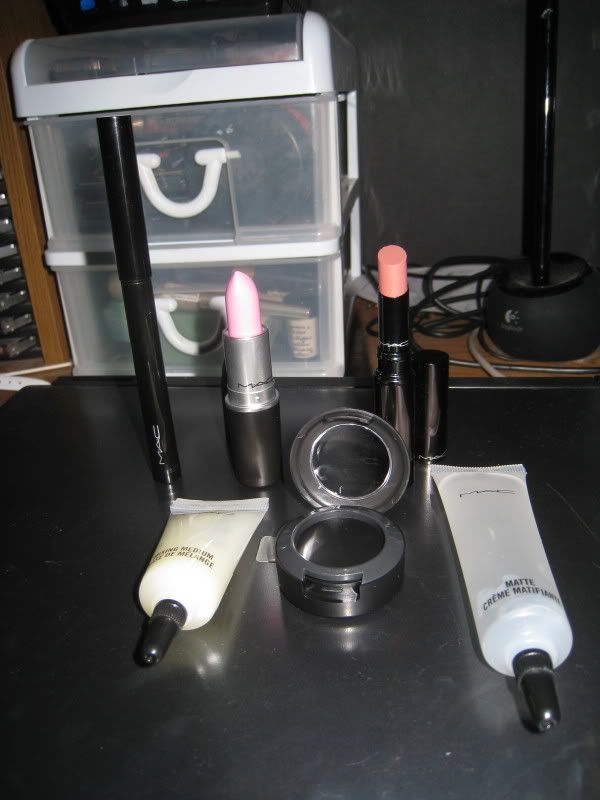 Sally's Beauty Supply (Buy 2 get 1 free!):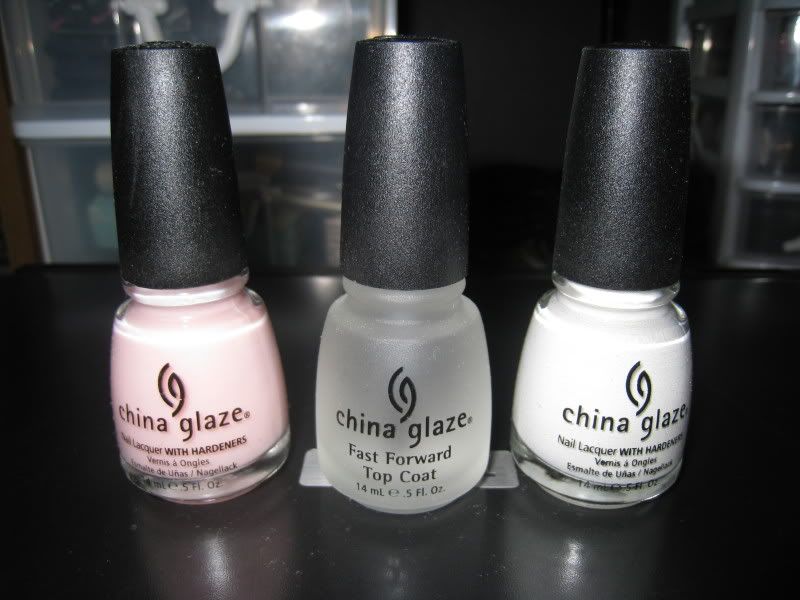 Okay, so this is kind of corny, but my boyfriend's REAL name is Blaze, and if you haven't already noticed, mine's is Julie. So when I found products that have our name in it, I get a kick out of it (I'm so weird...) Anyways, there are many products with the shade "Blaze" but I was never interested in it. There was even a MAC blush called "Ablaze" but it was like red...anyways I LOOVE orangey eyeshadow shades. And I had been debating for months whether to purchase this effect powder from GOSH called Blaze. I found a member on Makeup Alley that was willing to custom purchase this item (brand new) for me! Then, FaceFront had a free shipping promotion, and I immediately purchased "Julie's Revenge" which is funny cuz Blaze and Julie's Revenge were similar shades. Anyways...I did all that work just to take these pics...lol