Wednesday, December 24, 2008
(All MAC products used unless stated otherwise)
Ruby Red Pigment
Shore Leave e/s
Sketch e/s
NYX Trio Lake Moss (Deep purple shade)
Shroom e/s
Faux Lipstick
Posted by

jooLee
at 5:05 PM
6 comments:

Thursday, December 11, 2008
So long story short, I ordered Facefront's Survival Paint (eyeshadow base) from their authorized re-seller Facefront's Closet (not the original Facefront webiste). They instead sent me an eyeshadow pigment, which costs less than the Survival Paint, therefore I paid more for an item that costs less. I emailed the company's main email address many times and they have never answered once. I complained to the seller's email and she/they said there's nothing they can do except refund me the difference. Reluctantly, I was like ok if you can't even send me the right product that I ordered, give me my refund of the difference.
After all that, she found a lame excuse to refuse me the right product OR the refund - she found a way to blame ME! Even though it was clear they had made a mistake.
Posted by

jooLee
at 1:16 PM
3 comments:

Thursday, November 6, 2008
Ok so I've never been much of a purse/bag kind of girl, but I do own a few Coach items (since I am a brand whore!)
Note: For the price, they are not that great quality - my Carly bag is getting messed up at the bottom =(
I currently own the following:
Large Carly Signature:
Then, my bf got himself a money clip, and he gave me his black coach wallet:
And since MEN'S wallets have no place for change...it gave me an excuse to buy a change purse...I had the TOUGHEST decision of which shade to buy. "Do I buy the black change purse to match my wallet or get the shade that matches my purse?"
I ended up getting the black one so that if I wanted to switch purses, my wallet and coin purse would match: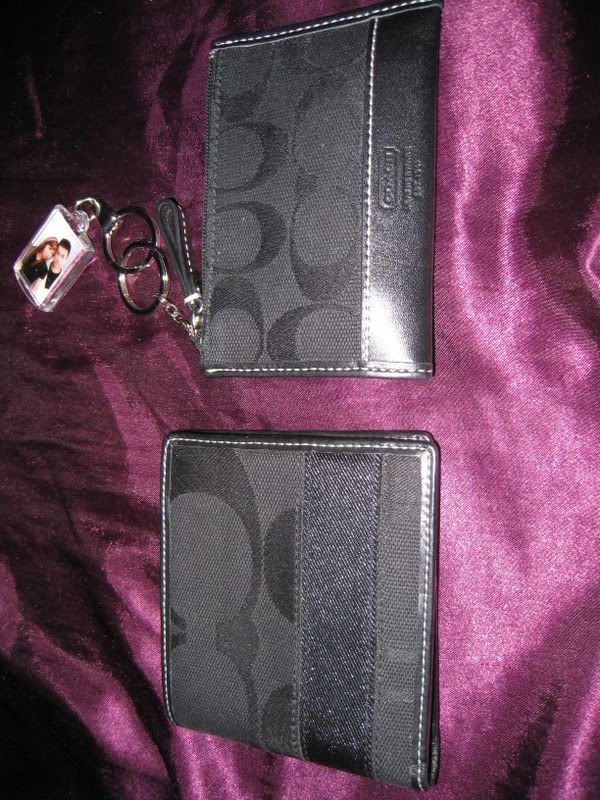 And so time went on, I got sick and tired of having to use 2 different items to pay for things, so I searched for a matching wallet for my purse, I chose the Hampton's Signature Checkbook Wallet - it doesn't match my purse completely because the straps of my purse are black, but it was the closest thing I could get that wasn't ugly.
And now since my black coin purse in lonely, I am planning to get the black
ZOE SIGNATURE CAPACITY WRISTLET




I am thinking of getting a swingpack, but none out that I like at the moment.
Posted by

jooLee
at 2:01 AM
2 comments: